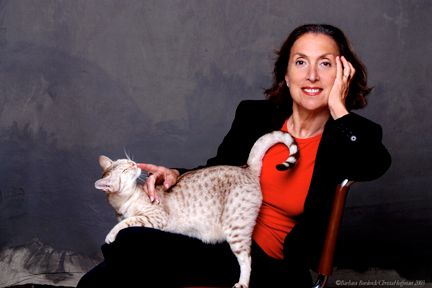 BIOGRAPHY
Born in the Bronx, New York, the internationally renowned portrait and fashion photographer, Barbara Bordnick, began her career in Copenhagen and Paris before returning to open a studio in New York in 1969 where her photography in HARPER'S BAZAAR began drawing acclaim.
Throughout her career she has received innumerable honors and awards for her film and print work, including:
• Clios for film & print
• The International Film Festival Gold Medal
• Art Directors' Club Awards
• Missouri School of Journalism Award
• The Polaroid Corporation commission to document portraits of
America's Great Women of Jazz - the first 8X10 Polacolor
• ASMP Award for Distinguished Service
• International Photographic Council's Leadership Award at the United Nations
Barbara Bordnick's works are in the permanent collections of the International Center of Photography, the Gilman Paper Collection in New York, the Polaroid Collection in Massachusetts & Vienna Austria, George Eastman House in Rochester, NY, the Portland Museum of Art in Maine and the Hallmark Museum for Contemporary Photography in Massachusetts. Her book SEARCHINGS, Secret Landscapes of Flowers was published in the spring of 2003 to rave reviews, SEARCHINGS, Volume II was published May 2004 to even greater acclaim and Volume III was published in the fall of 2005. A traveling exhibition of these photographs accompanied the book publications throughout the United States. Ms. Bordnick served three terms as the president of the Advertising Photographers of New York, and was elected as the first woman president of the American Society of Magazine Photographers in 1977.
Bordnick was honored with a United States postage stamp using her portrait of E.Y. Harburg the late, great, American lyricist, issued by the United States Postal Service in 2005.
In addition to her photography, as one of Canon's exclusive Explorers of Light, Bordnick is a much-sought-after lecturer and teacher. She also exhibits, is widely collected and is featured regularly by the media, including the following nationally known publications, newspapers and television programs:
THE NEW YORK TIMES MAGAZINE, HARPER'S BAZAAR, LEARS, LIFE,
THE NEW YORK TIMES FASHIONS OF THE TIMES, GEO, TIME,
NEWSWEEK, FORBES, FORTUNE, VOGUE FRANCAIS, VANITY FAIR
THE WASHINGTON TIMES MAGAZINE, COMMUNICATION ARTS,
GRAPHIS, VIEW CAMERA
NBC News, ABC "Good Morning America".
PBS AMERICAN MASTERS SERIES on Richard Avedon.
Barbara Bordnick's recognition has lead to commissions of her photography for annual reports, image and product advertising campaigns for Fortune 500 companies, including: IBM, Merrill Lynch, American Express, Chase Manhattan Bank, Avon, Johnson & Johnson, Procter & Gamble, Revlon, Bristol Myers, DuPont, Kodak, Polaroid., Armstrong, The Limited.
BARBARA BORDNICK
________________________________________________________________________
AWARDS
Clio Film, Clio Print
Art Directors' Clubs of New York and Chicago
International Film Festival Gold Medal
Mead Library of Ideas
One Club Award
Photography of the Year, Missouri School of Journalism
COMMUNICATION ARTS
Nikon
ASMP Distinguished Service
International Photographic Council (IPC) Leadership Award 2006
EXHIBITIONS
One Woman Shows:
The Space Gallery, New York 1979
Martin Luther King Library, Washington, D.C. 1982
A SONG I CAN SEE - 8X10 color portraits.
Country Bazaar Gallery, Southampton, New York
BODY & SOUL - nudes & portraits. 1995.
Cornell Museum, Del Ray Beach, Florida 1999
A SONG I CAN SEE - 8X10 color portraits.
San Leolini, Italy, 2001
"In Their Own Light"
Caelum Gallery, New York, NY 4/2003
SEARCHINGS – flower landscapes
East End Gallery, East Hampton, NY 2003 and 2004
SEARCHINGS – flower landscapes
Brooklyn Botanic Gardens, New York, 9/2003
Modernbook Gallery 494, Palo Alto, CA 12/2003
Pacific Center for the Photographic Arts, Emeryville, CA 12/2003-2/2004
Hallmark Institute of Contemporary Photography, Turners Falls, MA 1/2006
Inaugural show - INTIMATE LANDSCAPES
Caelum Gallery, New York, NY 5/2006
INTIMATE LANDSCAPES
Group Shows:
International touring museum exhibitions:
Venice Italy: ONE OF A KIND/EXPLORATION OF A MEDIUM,
Photokina, Germany
Hastings Gallery, New York: FASHION PHOTOGRAPHY
Nikon House, New York: FIFTY GREAT WOMEN
Amsterdam, Holland: 100 YEARS OF "AVENUE"
Catskill Center of Photography
Museums in Manila, Japan, Australia: SELECTIONS FROM THE POLAROID
COLLECTION
Pheromone Gallery, Hollywood, California: FEMALE: SENSUOUS FORMS
Mary Anthony Gallery, New York: NUDE YORK
Ukraine: AMERICAN PHOTOGRAPHERS, 2010
Westlich Schauplatz fur Fotografie, Vienna, Austria: POLAROID (IM)POSSIBLE 2011
BARBARA BORDNICK
________________________________________________________________________
Permanent Collections:
The Polaroid Collection
International Center of Photography, New York
Eastman House, Rochester, New York
The Gilman Paper Company Collection
The Portland Museum of Art, Maine
The Pacific Center for the Photographic Arts, California
Hallmark Institute of Contemporary Photography, Turners Falls, MA
WORKSHOPS & TEACHING
International Center of Photography, NY
Venezia '79 Fotografia, Venice, Italy
Maine Photo Workshops, Maine.
Truckee Photo Workshops, Truckee, CA
Woodstock Center of Photography, Woodstock, NY
Palm Beach Photo Workshops, Florida
Parsons School of Design, NY
Toscana Photographic Workshops, Italy
Santa Fe Photographic Worships, NM
University of Alaska/Anchorage
Ohio University
Photo Academy, Moscow & St. Petersburg, Russia
LECTURES
University of Minnesota School of Art, Minneapolis MN
Maine Photo Workshops, Rockport, ME
International Center of Photography
Brooks Institute, Santa Barbara CA
Columbia University School of Journalism, New York NY
Smithsonian Institution, Washington DC
University of Colorado, Denver CO
Savannah College of Art and Design, Savannah GA
American Society of Magazine Photographers
Advertising Photographers of New York
Professional Photographers of America
Professional Women Photographers
Art Directors' Club, Minneapolis, New Orleans, Salt Lake City
University of California, San Francisco
Art Center, Los Angeles CA
Canon Lecture Series A SPECIAL WAY OF SEEING
Canon Lecture Series THREE GENERATIONS
Philadelphia University of the Arts
University of Alaska, Anchorage
Hallmark Institute, Turners Falls MA
College for Creative Studies, Detroit MI
Pacific Center for the Photographic Arts, Emeryville CA
Professional Photographers of China, Beihai, & Duyun, China
Microsoft: Women Behind the Lens
Palm Springs Photo Workshops
Photography Day, Moscow, Russia
BOOKS
NUDES I & III Graphis
NUDE YORK
EROS, Stewart Tabori & Chang
PROVOCATEUR
THE WORLD'S TOP PHOTOGRAPHERS/NUDES: RotoVision
SEARCHINGS Secret Landscapes of Flowers: Welcome Books
SEARCHINGS Volume II: Welcome Books
SEARCHINGS Volume III: Welcome Books